---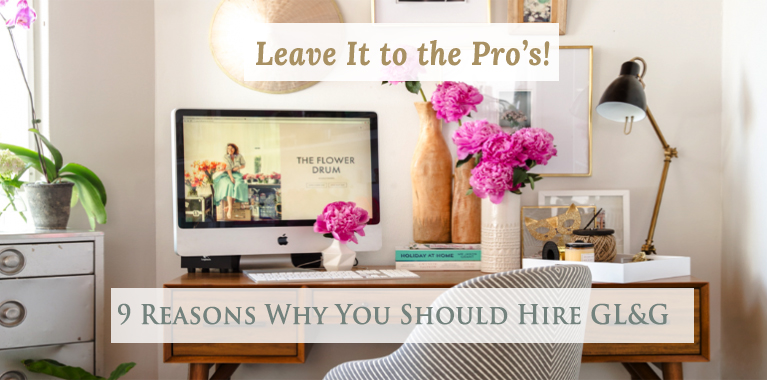 Your home should feel like your sanctuary: a healthy and inviting environment where you can retreat to and relax. Between all of your responsibilities and a limited amount of time, the last thing you should worry about is cleaning. Leave the hard work to the pro's, and spend more time doing what you love.
We are a highly experienced team of professional, caring individuals who are totally committed to excellence and to providing you with the peace of mind you deserve. With GL&G you can rest at ease knowing that your home is being treated with the utmost care, respect, and love.
Here are 9 reasons why our clients are choosing GL&G over other cleaning services:
We are a family-owned local business based out of Del Ray, Alexandria.
We have been serving the community with exceptional cleanings for over 30 years.
We take the time to get to know your unique needs and preferences. The result is an exceptionally clean home done just the way you like it.
We have a small and selective client base, and provide each client with unsurpassed attention. Your home is not just another number to us.

We provide high-quality, thorough, detailed cleanings on each visit. No rotating and confusing task lists.
Your home will be scoured, cleaned, and sanitized top to bottom.
We clean each space with love and care.
We have established cleaning and quality control procedures to ensure your satisfaction.
We like cleaning the old-fashioned way, with lots of elbow-grease and no cutting corners.
We only select the best. We have a selective screening and hiring process that includes full background checks on all employees.
Our trustworthy personnel are highly-trained to provide excellent service and have extensive cleaning experience under their aprons.
The same team is assigned to you, always.
Our teams arrive in a professional uniform with all products & equipment necessary to do an excellent job.
Each team includes a supervisor who reviews your client work order and performs an inspection of the cleaning at the end of the visit.
Every member of our cleaning team is licensed, bonded, insured. That means you never have to worry about paying payroll taxes, employee injuries, or breakage liability.
Your health and well-being is at the core of everything we do. Green cleaning products are important for clients who want to eliminate chemicals and toxins that can pose a health risk. GL&G uses green cleaning products that are healthy and safe for people, babies, pets, and the environment.
GL&G uses the best hygienic cleaning methods and sanitation practices in order to eliminate cross-contamination between homes. Did you know that many major cleaning services ration their cleaning cloths and force employees to reuse the same cloths throughout the day? That means that the very service that is supposed to be sanitizing your home may actually be contaminating your space with yucky germs and unsafe bacteria!
We sanitize all of our products and equipment, and will only bring fresh and clean cloths into your home. We also supply a clean mopping towel for each client, and will never use a sponge or string mop in any home.
We offer a fantastic Cleaning Kit at a low cost for clients who prefer to keep their own set of cleaning cloths and sponges at home.
We are a cleaning service that you can rely on. With GL&G you never have to worry about a missed appointment. We offer easy and punctual scheduling, and take our commitment to you seriously. We show up for all scheduled visits, guaranteed.

You can be confident that our rates are competitive locally. Cleaning services are a necessity for families and businesses alike, and we strive to provide our excellent services at reasonable and affordable rates. We are happy to work with you and customize our service to suit your needs and your budget.
Cleaning houses requires physical endurance, mental alertness, and teamwork. Our employees enjoy working for GL&G and in turn provide quality, cheerful, and dedicated service. We treat our staff right and seek to establish long-term relationships with our employees.
Here are some of the many reasons why our employees enjoy working at GL&G:
We provide an empowering, joyful, and fair work environment for our employees.
We value our hardworking team members and support them in growing their professional skills.
We offer all of our employees an excellent salary and benefits package.
We never overbook or overwork our teams.

We guarantee that we will knock your socks off with our cleaning! If you find an oversight or for any reason are unsatisfied with our cleaning, please contact us within 24 hours after your cleaning. We will cheerfully return to your home to re-clean the area on the next business day at no cost to you.

You shouldn't hand over your keys to just anyone. With GL&G you can rest assured knowing that your home is being cleaned by licensed and experienced professionals.
GL&G complies with all licensing, labor, and tax laws.
Every member of our cleaning team is licensed, bonded, insured.
You can rest assured and never have to worry about paying payroll taxes, employee injuries, or breakage liability.
Questions? Please contact us at 703-548-0613 to schedule a free estimate.
---