---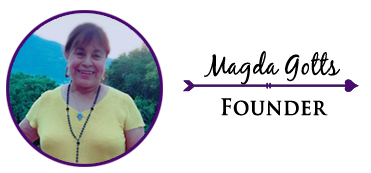 Magda is the founder, as well as the creative force, innovative energy, and dreamer behind GL&G. She first began her career in the hotel industry, working her way up from managerial positions in the front desk and food & beverage departments to senior financial manager in the hotel controller's office. She has worked at various prestigious Washington, D.C. hotels including the Four Seasons Georgetown, the Mayflower Hotel, and the Shoreham Hotel.
While Magda loved her career in the hotel industry, as a single mother she found herself wanting a flexible schedule so that she could spend more time raising her daughter and watching her grow. After discovering the transformative power that a clean, fresh, and organized space can have on a person's life, Magda decided to create a boutique cleaning service dedicated to providing each client with a deep sense of well-being and tranquility. Her vision was to clean each client's home with love and beauty, as well as to create an empowering and joyful work environment for women. With this mission in mind, GL&G Cleaning Services was born in 1988. Initially operating from Magda's kitchen table in Del Ray, Alexandria, GL&G quickly grew through word-of-mouth referrals and no marketing.
After 30 years with the company, Magda has become an authority on exceptional cleaning techniques and home styling. She attributes a large part of her success to keeping GL&G's client base small and selective in order to provide each client with quality workmanship and the personal, old-fashioned service that GL&G has come to be known for and loved.
In her free time, Magda loves meditating and reading. She especially loves spending time in her kitchen making probiotic-rich foods such as kefir, kombucha, and fermented veggies which she enjoys sharing with family, friends, and clients. She is originally from Guatemala, "the land of eternal spring," and has been living in the U.S. for over 50 years.

Tatiana breathes life into Magda's vision and ideas by implementing a strong framework of logistics and planning. Joining GL&G in 2008, she is in charge of GL&G's daily operations, client scheduling and support, and field training and oversight. She also designs all of GL&G's print and online marketing campaigns.
Tatiana received her undergraduate degree from Boston College and law degree from Brooklyn Law School. After working in intellectual property law in New York City, Tatiana decided to return to her D.C. roots and channel her talents and skillset in a new direction. She loves how each day at GL&G is different, and brings a laser focus and detail-oriented work ethic to the company.
Tatiana lives in Mt. Rainier with her husband and dog, and in her free time loves exercising and bicycling, spending time outdoors, and Vietnamese food.
Shana, the resident Scottie, brightens up the office with her spirited, rambunctious, and intelligent nature. She loves coming into the office each day and is always sad to leave. Her duties include cheerfully greeting staff members, poisedly sitting in on meetings, and barking at those pesky vacuum cleaners when they seem to be getting out of hand. In her free time she loves playing soccer, and has proven herself an avid and agile forward in both large matches and one-on-one games. She also enjoys snacking on blueberries and receiving free belly rubs.
---